Diabetes Miscellany
Preface
On 20 December, 1996 the Diabetes & Hypoglycemia Forum on CompuServe officially launched the Gray Ribbon Cure Diabetes Campaign. The purpose of this movement is to educate the public about the devastating nature of this "silent killer" that is so desperately in need of a cure. I am pleased to report that the campaign has been gaining worldwide support and it is hoped that those who wear and promote the ribbon will be instrumental in making the CURE a reality. The Pages that follow are dedicated to the Campaign and the Cure.
---
In Loving Memory of Caleb Lemaster who died November 23, 1997 on his fourth birthday. He fought hard against against diabetes for two years of his short life. Our deepest condolences to his parents, Stephanie and Bill.
We must find a cure!!!!!
Visit the Virtual Quilt Pages
---
Table of Contents

Preface

Part One: The Gray Ribbon Campaign

Part Two: FAQ

Part Three: What's New?

Part Four: Links

Part Five : The Diabetes Memorial Quilt

---
MAKE A RIBBON------FIND A CURE

The San Francisco Proclamation


Please click here to sign my guest book!
E-Mail:Arlene Shapiro arlshap@mindspring.com


TOP---

Ribbon---

FAQ---

What's New--

Links---

Quilt
Updated on: Sunday, November 07, 1999
You Are Visitor #
For Information About Metal Ribbon Pins
Contact
Judy Reddick fbreddick@buckman.com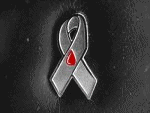 TO VISIT THE COMPUSERVE DIABETES FORUM WEB SITE